Note Check out our
top 10 events of the second half of 2010
now live.
What a year 2010 has been thus far. To say the least it's been filled with Natural Disasters, government intervention, political tensions, economic and debt crises that everybody thought would have passed by now. and a cool new release of an Apple product.
Since we just passed over the halfway point of 2010 I figured a top 11 list of news worthy events that have happened so far might be appropriate.
11)Nashville Floods
This flooding event happens only once a millenium so in a way we should be glad that we got to experience two rare millenium events (for those born before January 1st 2000).
None the less those stuck in the torrential down pour that only needed to last for 2 days from May 1st-2nd with areas getting as much as 10-20 inches of rain. 31 people were confirmed dead from the floods between Tennessee, Mississippi, and Kentucky. Overall damage in Nashville alone was over $1.59 billion dollars and thats not including infrastructure and the worst part:
Rare Musical Vintage and stuff damaged: 2 Grand Steinway concert pianos and an organ worth $2.5 million, the Grand Ole Opry, LP Field (home of the Titans), Country Music Hall of Fame and Museum.
Bad News
: Federal disaster area was declared
Good News
: Kids got off of school for one week!
10)The World Cup Begins
Once every 4 years the whole world well everybody and a few Americans look forward to the world's most popular sport Soccer (futbol) is running now and goes until July 11th in South Africa. The following 32 teams will be competing:
List of qualified teams
The following 32 teams qualified for the final tournament.
AFC (4)
* Australia
* Japan
* Korea DPR
* Korea Republic
CAF (6)
* Algeria
* Cameroon
* Côte d'Ivoire
* Ghana
* Nigeria
* South Africa (hosts)
CONCACAF (3)
* Honduras
* Mexico
* United States
CONMEBOL (5)
* Argentina
* Brazil
* Chile
* Paraguay
* Uruguay
OFC (1)
* New Zealand
UEFA (13)
* Denmark
* England
* France
* Germany
* Greece
* Italy
* Netherlands
* Portugal
* Serbia
* Slovakia
* Slovenia
* Spain
* Switzerland
Wikipedia's 2010 Wolrd Cup Page
also has all the stadiums and events so I won't bore them with you but if you wanna make the game exciting there are plenty of
online sportsbooks
taking wagers as this year there is excpected to be over $4.1 billion dollars wagered on the world cup games.


9. Al Gore and Tipper Split
After 40 good years of marriage, man bear pig, and claiming to invent the internet I guess Tipper just got fed up and her jealousy got out of control so they split in late May and the news came public in early June. Rumors are flying whether Al has had an affair with Larry David's ex-wife whom he worked with on an Inconvenient Truth but Gore is being tight lipped on this personal matter.
Cool Fact: Al and Tipper were high school sweet hearts.
8)Israel Flotilla
The Israeli Defense Forces seized 6 ships in international territory when they refused to have their ships and contranband checked out. These suspected terrorists were trying to break into Gaza territory and had 40 "militant" Al-Queda activists on-board. These passengers, were not searched as they boarded the ships and when they were stopped the whole world went crying when some people got killed and CNN got involved.
Israel has a duty to protect itself and unfortunately when most of the world hates you and there are possible terrorist attacks coming your way your going to defend your ground and thus the IDF did and now we have this whole mess. Thanks terrorist can't you just stop blowing stuff up already it's getting really old and no you
DO NOT
get 30 virgins in heaven...
As if there wasn't already enough tension in the middle east for the past 14,000 years...
7) The great blizzards of 2010
If you live in the north east or where stuck visiting during the month of February this year than there is a pretty good chance you got snowed in. In fact it blizzarded for 6 out of the 28 days making that a 21% chance of snowfall that month and even greater if you add in all the days you would have been snowed in as Baltimore and surronding Washington D.C. areas got hit with 30+ inches of snow on February 5th followed by a Noreaster on February 9-11th that went all the way from Maryland to Boston and I guess the 3rd time was the charm as Feb. 24th started off the grand finale of the ultimate blizzardtastic winter for North East residents with Charm City (Baltimore, Maryland) having an all time record for the most Snow Fall ever in a single year.
6) Greek Debt Crisis
So we thought that the worst of the economic crisis was past us? Well, than a new acronym propped up called PIIGS which stands for Portugal, Italy, Ireland, Greece, and Spain and now we come to find out that most Greeks don't like to pay their taxes, spend way too much of their budget in terms of percentage of GDP, and their government was about to default on it's debt if somebody didn't act fast and Angela Merkel dealt with all the headaches and like most people sought out to maybe blame Goldman Sachs or somebody besides themselves.
So the rest of the EU and the IMF (not so willingly) came together pitched in with a 110 billion EURO rescue package to save the small euro laden country but riots still ensued when the people of Greece found out that the hand me downs of free healthcare, free education, and generous pensions are endangered species and where being taken away. Oh what a great time we live in. I can't wait to do my how bad the upcoming depression post.....
p.s. Don't even get me started on the Pool story where just 324 residents of Athens checked that they had a pool and agreed to pay higher taxes when a
Google Earth
Search showed...get this: 16,974 pools. WOW
5) Apple releases the iPad
Steve Jobs is always known for doing something innovative. We have the Mac, iPod, and iPhone just off the top of my head. So on January 27, 2010 at an Apple conference in California he announced a new mobile computing device that will eventually replace the notebook in his eyes and is being touted as a saver to traditional media such as newspapers and magazines(the verdict is still out for those dinosaurs). None the less the iPad launched in the beginning of April and has already sold over 2 million devices...not to shabby especially since AAPL now has a higher market cap value than long time Bill Gates rival Microsoft.
4) Goldman Sachs gets indicted by the SEC for Fraud on Abacus
When the economy and banks were recovering the SEC had to go out of its way and charge Goldman with fraud on a synthetic CDO claiming that they mislead their clients and an email from the "fabulous fab Tourre" talking about the demise of a product he helped create called the Abacus CDO. None the less GS did their job and thanks to BP the heat has died down and the SEC will look like a bunch of SCHMUCKS when they lose so I am going to stop before I go off the wall just in case I ever have the honor of working with or for Lloyd Blankfein and company.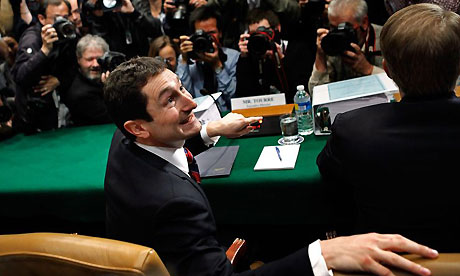 3) Gary Coleman Dies...So does Corry Haim
Whatcha Talkin 'Bout Willis? Well apparently we are talking about your short lived life. As the famous actor who was ransacked by his own family passed away. Interesting fact Gary Coleman moved to Utah in 2005. Gary Coleman + Mormons = I don't really know what I'm talking bout.
Gary passed away on May 28th two days after suffering a brain hemorrhage from a fall ironically not from a different kind of stroke.
Oh and on March 10, 2010 the Corey's officially split when Corey Haim overdosed/took Valium, Vicodin, Soma & Haloperidol and was sad and lonely at the time of his death a sad but true life reality of child stardom.
2) Who Dat? The saints win the super bowl XLIV
Super Bowl 44 in Miami, Florida isn't monumental to me but if you were at the game and saw the New Orleans pride walking around and the marching bands playing when jazz music makes it note worthy after all that the city of New Orleans has been through with hurricanes and now some kind of oil drip out on the gulf. Any way it was the first super bowl win ever for the Saints and they were the underdog as the
NFL super bowl odds
had them listed as -5 and the Saints ended up beating out Peyton Manning and the Colts 31-17!
1) THE BP Gulf Oil Spill:
What news story could possibly be bigger than the BP Gulf Oil Spill????
NOTHING.
This gigantic mess has ruined our Gulf, BP has possibly lied about a lot of things that I don't even want to fathom, States are losing money from lost tourism, animals are dying, this will affect us for years to come, and so far the cost is estimated to be over $20 BILLION DOLLARS.